SkillsUSA Fall Conference information
In the Fall, the SkillsUSA officers will go to the Maximize Fall Leadership Conference. This will take place on Monday, November 7th through the 8th, in Melbourne, Florida. Since Frank H Peterson is 3 hours away from the hotel that the conference will be held at, the officers and Mrs. McCall will have to leave for Melbourne on the 6th witch is that Sunday. 
Maximize is SkillsUSA Florida's annual student Fall Leadership Conference. Chapter leaders, including chapter officer
teams, are encouraged to attend. Students will develop teamwork, communication, planning, organization, management, and adaptability/flexibility skills during this event. 
The focus of the conference is to prepare students to work with their chapter to plan events and work-based learning experiences that focus on elements of the SkillsUSA Framework. Students will be divided into small groups or "Conference Chapters." Then they will work together in committees to plan and execute a lip-sync for the annual Battle of the Chapters. 
The Advisors are invited to attend the Chapter Management Institute, which runs concurrently
with Maximize. While students are learning their role in chapter operations, advisors will work with SkillsUSA facilitators to develop a toolbox of resources to use in their chapter and classroom. Karolina Belen, SkillsUSA Senior Manager of Professional Development will lead advisors through the Professional Member Benefits found in Absorb, with extra focus on implementing the SkillsUSA framework in the classroom and chapter activities. 
The Advisors will also participate in an interactive session to help them plan, to build and sustain the SkillsUSA Chapters. From chapter meeting and officer elections to the Program of Work and Chapter Excellence Program, these sessions will guide advisors through the organization of building a comprehensive chapter with their student leaders. The Chapter Management Institute is perfect for new advisors, experienced advisors, and everyone in between. 
SkillsUSA Florida's Courtesy Corps is about working as a team to achieve a common goal: produce flawless State and National Conferences. At the State Leadership and Skills Conference, it is about assisting with the workstation setup at the contest site, getting people and supplies where they need to be without delay, delivering meals to contest sites, and running errands. It is also about showing people you are having fun while getting your job done. The team works hard and has a fun time doing it. The Courtesy Corps are always the first to arrive and the last to leave. Our conference would not be possible without this team.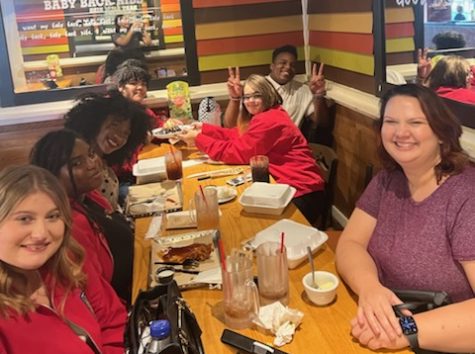 During Maximize, students can apply to be part of the Courtesy Corps Leadership Team and participate in the state conference with all expenses paid: including travel, hotel, and meals. Participation in Courtesy Corps is ideal for students new to SkillsUSA. It ensures about competing, competitors who may not have qualified at the regional event, or any other student or professional member looking to experience the conference from a backstage view. 
All the information is from the SkillsUSA website and emails that they sent the officers.