Mrs. Stagon went to Paris
Jennifer Stagon, a math teacher at Frank H. Peterson, took a trip to Paris and Amboise March 11th – 22nd. She went with her mother Cathie Gordon, sister Rita Gordon, sister's Friend Lacey Griffin, and sister-in-Law Brittany Hacker.
Mrs. Stagon says she went to Paris because, "My mother went when she was in high school and always hoped to go back again and take her daughters with her. She had planned the trip for April 2020, but it was cancelled because of COVID. We were finally able to go over spring break."
She took a plane from Jacksonville to Miami which took about an hour, then Miami to Paris was eight in a half hours and then it took about 10 hours to get back. Once they were in Paris, "We used uber, subways and trains. Europe has a great public transportation system. You can easily get around Paris and other European cities by train", said Mrs. Stagon.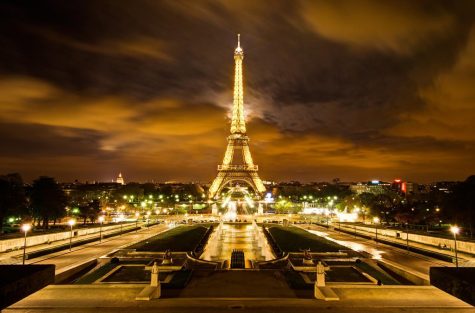 While they were there the time changed in America, but not in France (they do a time change as well, but at a different time than America).
The first few days all tourist attractions required to see your vaccination card due to COVID-19 mandates, the mandates were lifted four days into their trip and after they only had to wear masks on the public transportation, everyone followed the mandates, and all were masked on the subways and trains.
They traveled all over the city, mostly by subway, then they went to a different city Amboise. In Paris they went to see the Eiffel Tower, they did not go up to the second floor, but they did walk about outside, The Louve which is a famous museum that holds the Mona Lisa, Arc de Triomphe a large monument they walked to the top of to see the city, lots of restaurants, the Catacombs, Palace of Versailles, Mrs. Stagon says, "Louis the 14th built it, Louis the 16th and his wife Marie Antoinette lived there at the start of the French Revolution and were later beheaded." Sainte Chapelle, a chapel with beautiful stain glass windows depicting the New Testament, and finally The Notre Dame Cathedral was closed due to last year's fire, so they just walked around the outside.
In Amboise she went to a local cooking class with wine and cheese, Château Royal d'Amboise, a random castle close to your apartment, and Château du Clos Lucé, a castle and home to Di Vinci for the last four years of his life, Mrs. Stagon says, "This was my favorite on the trip. It had beautiful gardens, replicas of many of Di Vinci's inventions, and had a museum about art, math, and engineering." She also states that, "they had so much food the whole trip, food choices were similar to what you would find in America, but most menus were all in French, so we just took best guess as what to order. Sometimes it worked out, other times it did not but it was about the experience of trying new things. A few classic French foods we had though were Crepes (were all great), Escargot (snails, tried it but not my favorite, very chewy) and Croque monsieur (like a grilled cheese but there is cheese on top of the sandwich as well as inside it and has ham in it. loved it."
Mrs. Stagon expressed that she had "A wonderful time, except my phone and wallet were stolen by a pick pocketer on the third day there. Thankfully, I noticed quickly and cancelled all my cards and only had 10 Euros in my wallet. Also, my phone is a cheap Walmart phone, so it was easy to replace once I got home. I would love to go again with my husband and kids, but I would spend more time in Amboise as opposed to the city."